Plastics have come under heavy fire, and heavy scrutiny, recently for the congestion and contamination they inflict on our landfills, our oceans and our parks. Governments, consumers, communities — and the restaurant industry — are looking for viable, affordable alternatives. Here are 10 great ideas to get you started and take you further along the plastic-free path:
Plan for less waste
There are a myriad of new approaches and new products chefs can use to satisfy customers, meet their individual kitchen needs, and lend the environment a helping hand. "The first option is improving waste management so that consumers have the ability to effectively dispose properly of items that are recyclable, and then the operator to effectively recycle it through their waste management stream," says Jason Raven, national sales manager with the Polar Pak Company in Montreal.
Be rooted to better options
Restaurants are finding novel ways to return to the earth what customers are consuming — and gain some recognition for their efforts in the process. Last year the National Arts Centre (NAC) launched an innovative program that introduced plant-based food and drink containers and transformed them into rich compost. The move will divert 500,000 containers from the landfill every year. The containers, used at the NAC restaurant and banquet operations, intermission bars, as well as in the employee cafeteria, include wine and beer glasses, coffee cups, plates, utensils, straws, and take-out boxes. The compost created is being put back into the Centre's rooftop herb garden, which in turn, provides fresh ingredients to the NAC's culinary team.
---
"Audit what you purchase and what actually gets used by your customers, from delivery and food preparation to storage and disposal."

The Plastic Pollution Coalition
---
Audit your restaurant
The Plastic Pollution Coalition, a global initiative launched to eliminate plastic litter, recommends restaurant owners and chefs start their plastic-free plan by looking at their current use. "Audit what you purchase and what actually gets used by your customers, from delivery and food preparation to storage and disposal," the coalition says. Include monthly order size and costs for such items as plastic wrap, straws, bibs, and storage containers.
Test the waters
One project in Australia, Plastic Free Noosa, is helping restaurants reduce the number of plastic water bottles going to landfills with three very savvy suggestions. First, provide table water in glasses and/or have a water jug at the ready for customers. You might even want to toss in a few lemons or cucumber slices. Second, explore the use of an on-tap water system and offer up filtered and carbonated options for dine-in customers. Third, consider joining a water refill network such as Tap, an app that allows water bottle users to find nearby refill stations. This may also encourage new customers to your business and you can even sell your own branded reusable water bottles.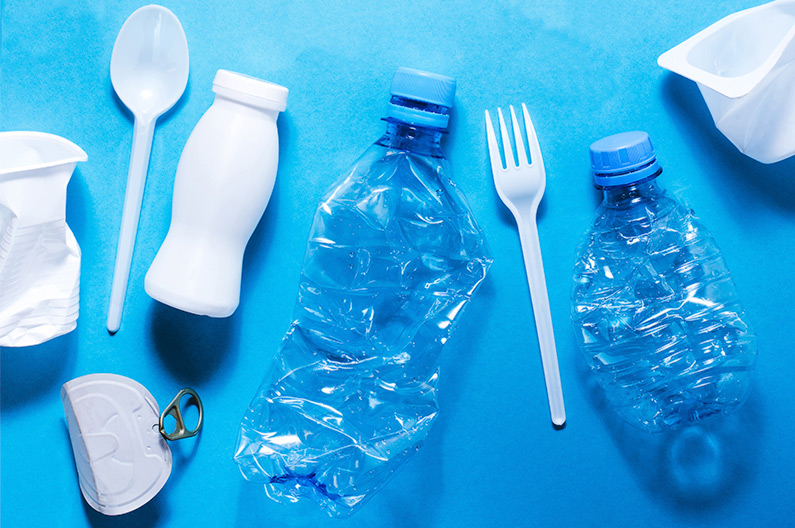 Be a Super Bowl fan
More and more eco-friendly options are on the market — and kitchen shelves. Polar Pak, for example, has "super bowls" that are made from 100 per cent sugarcane, a rapidly renewable resource. The bowls are grease and cut resistant, hot and cold food friendly, and both freezer and microwave safe.
Go for the green bin
In addition to thinking renewable, chefs and restaurant owners also need to think compostable, stresses Raven. "[Restaurants need] to use compostable products which again need to be ensured are effectively disposed of and then composted."
Talk trash
Late last year Novolex, the foodservice packaging company that owns De Luxe Packaging in Montreal, launched Eco Blend Max, a new line of trash can liners made with 50 per cent post-consumer recycled content. The bags, using what so-called right-sizing dimensions, fit the most common cans. According to the company, correctly fitting liners use less material, which reduces costs and the impact on the environment, and saves time placing liners in cans.
Think big, act bold
Every small step you take to reduce or eliminate plastic is a thumb's up for the environment. But thinking big can be better and bolder. McDonald's Canada has announced it will be unveiling two Green Concept Restaurants in London, Ont., and Vancouver, B.C. These restaurants will act as incubator locations to test new packaging options and recycling initiatives including a fully repulpable cup for cold beverages, a Canadian QSR first. The cup uses an aqueous coating that is acceptable in recycling streams. New fibre lids, another Canadian QSR first, is made from 100 per cent Forest Stewardship Council-certified wood fibre and is recyclable. Wooden cutlery, wooden stir sticks, and paper straws will also be mainstays of the new eateries. But you don't have to as big as the Golden Arches to introduce innovations like these to your operation.
Prepare for change
Less than 10 per cent of plastic used in Canada gets recycled. Without a change in the current course, by 2030, Canadians will throw away an estimated $11 billion worth of plastic materials each year. The federal government intends to reduce those numbers through a series of initiatives including banning single-use plastics by as early as 2021. This includes plastic bags, straws, cutlery, plates, and stir sticks. The government of Nova Scotia has already announced that single-use plastic bags will be banned this year [2020]. Will you be ready?
Plan for better business
The contemporary customer comes to your restaurant armed with an appetite — and expectations. Among those expectations: that your approach to preparing and serving food will mirror their values. One of those fundamental values is to protect the environment. That is smart business, says Raven. "Your investment in plastic alternatives and reduction will be paid back with consumer brand loyalty, improved experience and waste management expense."